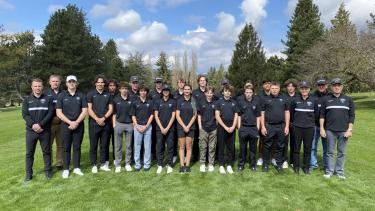 Overview
Robert Bateman Secondary is committed to the development of student success by providing opportunities for students to pursue their passions. This exciting golf academy will help student-athletes personalize their learning by providing them with a tremendous opportunity in meeting their athletic and learning goals.
2022-2023 Roster Program Highlights Program RegistrationRobert Bateman Open Awards Alumni Golf Team
Goals:  
The academy will offer students a high performance golf program that provides them with the opportunity to develop their potential and total game.  The program will have a balanced approach, with approximately 40% of the program held at Ledgeview Golf Course and Fraserglen Driving Range, where certified CPGA professionals will instruct students. The other 60% of the program will involve golf-specific athletic performance training, mental training, rules, etiquette, anatomy, and nutrition by certified instructors and trainers.
Specifically, the goals are to:
Nurture healthy attitudes and behaviours consistent with academic and athletic success
Improve the skill level of every academy participant
Enhance functional physical development through continuous fitness programming
Increase participant awareness of the benefits of nutrition on sport performance
Provide the student and parent/guardian with evaluations of personal performance
Academic Structure:
Students who participate in the Golf Academy receive 4 credits for their sport-specific training during the school year.
Strength and Conditioning 9,10, 11, Personal Fitness 12 and
PE 9, 10, 11, 12 (Golf specific)
All students in the golf academy are expected to maintain a B (73%) cumulative average.
Partners
The Robert Bateman Secondary Golf Academy is happy to be partnered with Ledgeview Golf and Country Club and Fraserglen Golf Course. The Academy will be using both of these facilities throughout the year for the practical portions of the academy. 
Ledgeview Golf and Country Club
35997 McKee Road
Abbotsford, BC
V3G 2L6
Phone: 604.859.8993
FraserGlen Golf
36036 South Parallel Road
Abbotsford, BC
V3G 2K4
Phone: 604.852.3477
Useful Links