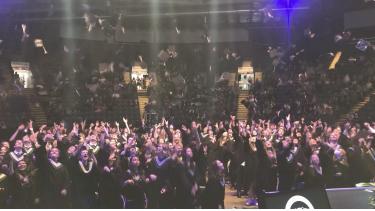 Reflecting on the School Year
June 30, 2022
As we wrap up another school year, let us take a moment to reflect on some of the outstanding opportunities provided to the students at Robert Bateman Secondary and some of the achievements we witnessed.
Academically, our students were provided opportunities to inquire in subjects that they were interested in and passionate about. For some, it was diving deeper into their love of science and math, others got their hands dirty in the shops, or developed their fluency of a second (or third!) language. Our students investigated paths that may be of interest to them after they graduate from high school, learned the impacts on physical and mental health, and thought critically about how history can repeat itself. Most importantly, our students developed lifelong skills such as communication, collaboration, critical thinking, and gained a greater understanding of themselves and those around them. This would not have occurred without our creative and compassionate classroom teachers and support staff.
In the arts, our music department shone brightly once again, participated in numerous festivals and competitions, and culminated their year with a sold-out spring concert in our gymnasium. Our dancers demonstrated their skills at a year-end show at the Matsqui Centennial Auditorium. Students in our Art Activism Class held an exhibit at the Reach Gallery displaying their paintings about the media's influence on body image and health. Most importantly, we had hundreds of our students who were provided opportunities to express themselves through music, dance, and art, and to develop passion projects. These opportunities would not have occurred without a group of caring and committed educators who went above and beyond.
In athletics, our senior football team made a trip to the Subway Bowl at BC Place, our senior girls basketball team, junior boys and girls rugby teams, wrestlers and track and field athletes participated in the Provincial Championships. Most importantly, we had over one hundred of our students participate in school sports competition, learning what it means to be part of a team, to commit, to fail, to persevere and succeed. These opportunities would not have been possible without the supportive adults who volunteered their time with our student-athletes.
We were able to celebrate our grads all together at Convocation with unlimited number of guests. We were able to build school spirit again with the return of pep rallies, cheer on our student-athletes as they competed, and celebrate our artists as they showed off their talents. We got to be together again, created a greater sense of community, and developed stronger relationships with one another.
There is no doubt that the mental wellbeing of our students and staff has been greatly impacted given the realities of the past two years. Because of these challenges, we are even more proud of the accomplishments of our students and the resilience of our school community and appreciate more than ever the adults on the RBSS team who continue to provide world-class, innovative, and individualized educational experiences for every student.
TRAVIS BELL
Vice-Principal, Robert Bateman Secondary