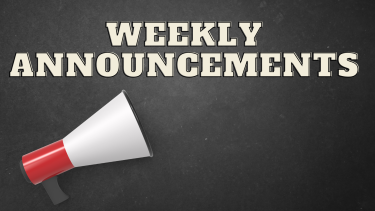 GSA (Gender Sexuality Alliance) club running Tuesdays at lunch in room E215.  Bring your lunch and everyone is welcome.

Congratulations to the girls volleyball program for sweeping the Tier 2 side of the Abbotsford City Classic Tournament. The Senior Girls A Team placed 1st the Senior Girls B Team placed second and the junior girls placed 3rd. Way to go Teams. Amazing effort and team work by all. Good luck in your seasons this year.

We will be having a swim team meeting for anyone who is interested in joining the team on Friday at lunch in  room (E202). Ms. Jamieson room)

There is still time to join the x Country running team.  See Mr. Bulat in E203 for more information. 

Attention all grade 12s attending the Grad Cruise this Thursday. Buses will leave Bateman at 4:00 pm; all students should arrive by 3:30 pm. Buses will return around 10:15 pm; please ensure timely pick-up. 

Girls and boys wanting to play basket ball there will be a meeting at lunch today  in Room E204 Mr. Haaks room.

We will be starting cookies sales this Friday, and will run them every Monday and Friday. 

75 cents 

Between A and B (first and second block) 

W210

There will be an intramural badminton tournament starting on Monday at lunch. Sign up this week in the big gym

Ready for the next Grad event?? Senior Paint Night is September 25th from 3pm to 7pm. Come out and paint the stalls in the Grad Lot and enjoy food from Helms Food Truck. You can pick up a Parking Stall Design Form from Mrs. Kufske in E 313. Get your event ticket and parking stall ticket now on School Cash Online!
Posted: September 14, 2023 - 11:21am
Expires: June 21, 2024 - 10:00pm